Group rides and races on Zwift can be fun. They tend to be social, entertaining and in the case of the ZTR style races, the riders push hard on the course (be prepared with fans and water nearby!) The live Zwift calendars are at the bottom of this article.
Some of those rides may not suit your time or intensity, so there's an easy way to create your own ride for your group, team, club! The Zwitft TeamUp Calendars!
Here's how to create your own ride on the Zwift calendar:
Create your Event on Facebook
---
If you're a member of the Zwift Riders group on Facebook, log into the appropriate group for your ride, and create your new ride as an "Event" in the group. All Zwift rides that you want to show up on the Zwift TeamUp calendar must be added as an event to the appropriate Facebook group first. TeamUp should always be considered downstream to the Facebook Group event.
Go to the Facebook group you want to organize the ride in, and choose "Events" from the menu below the group's header image: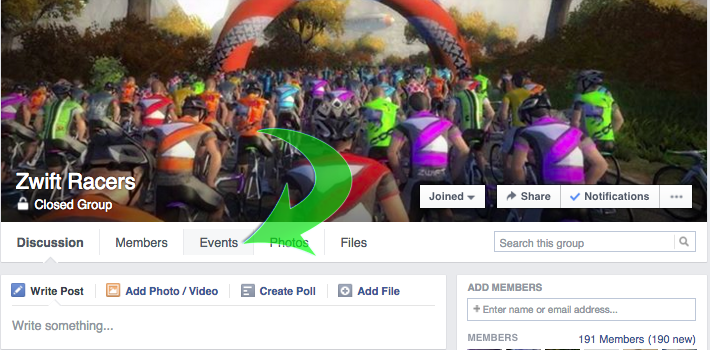 When you click on "Events" from the menu, you'll see a new page. Click on "Create Event" on the right side of the page:

A new page will open up with some additional details about your ride. Fill those in as appropriate for your ride, including an image, Start time, End time, ride direction, # of laps, pace, required jersey kit (if any) and any other additional details you might need to convey to your group.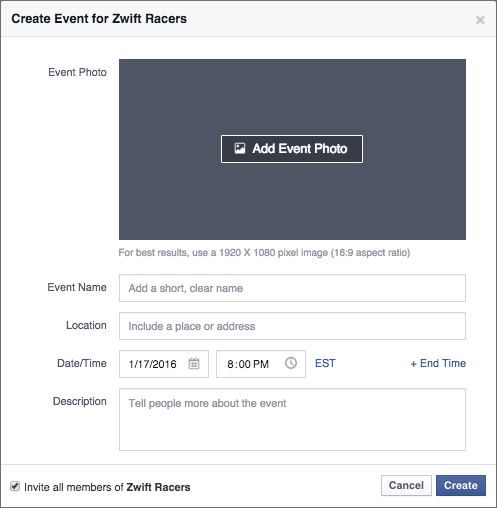 One thing that really helps a ride, as a ride organizer or a ride leader, is to provide good details about your ride. Here's a template you can use to help with your ride:
Sample Event Template
---
Course:
Watopia Reverse SELECT HILLS WHEN STARTING RIDE!!!
Race Distance: 4 laps (22.5 miles or 36 km)
Neutral start until the beginning of the bridge before the reverse KOM climb.
Please stay behind the ride leader during the neutral.
Ride Leaders:
Groups A & B will roll out promptly at 6:00 am EST (11:00 UTC)
Groups C & D will roll out promptly at 6:02 am EST
Please add XYZ and your to the end of your name.
Groups:
Groups are by speed. Pick a group that gives you the best level of competition for your fitness level.
Here are some basic guidelines:
A: 4.0 w/kg FTP or higher
B: 3.2 w/kg to 4.0 w/kg FTP
C:: 2.5 w/kg to 3.2 w/kg FTP
D: Under 2.5 w/kg FTP
Women may add "W" after their group to indicate they wish to be placed separately (e.g. XYZ-A W).
Summary of important rules:
Include any relevant other rules, guidelines or details your rides may need.
Timing Is Everything
---
If your ride is intended to be a race or otherwise timed event, make sure you communicate to your fellow riders that correct and precise timing is critical to placement of the race results. Any rider whose PC time is off or inaccurate, will directly impact the results, since their local PC time is what determines the time of each lap and the Start and Finish times.
Correct PC Time
---
To help correct and calibrate your PCs time, you can use a site dedicated to testing whether your PC time is correct; time.is is a great resource for preciselyt this:

If you need to correct your PC time and ensure that it remains correctly configured, David A. Desrosiers has written a very detailed HOWTO on exactly that, called "HOWTO: Correct and avoid clock skew on Windows and OS X platforms".
Follow the steps in the HOWTO and you can make sure your Windows or Mac PC time is always accurate up to the second. You can then verify that after making the adjustments by visiting time.is again.
Another veryuseful resource to add to your calendar event, is a "countdown timer". When all users use this at the same time, it ensures that they all roll ahead with your ride at the exact same second, which negates any potential in-game group chat lag, client PC clock synchronization issues or missing ride leader at the Start of the ride.
Adding your ride to the TeamUp Calendar
---
The next step, once you've created and saved your event on Facebook, is to recreate the event on TeamUp. There's no direct linking or synchronization between Facebook and TeamUp, so you'll have to do some cut-and-paste between the two events to create them.
The permissions on the Zwift calendars have recently changed, so you'll need to join the "Zwift Rides Calendar Access" private group on Facebook to get the code to edit the calendar to add your event. Previously, the calendars were wide open, but this left the calendar vulnerable to other users editing or deleting events that they didn't own. The new authorization helps mitigate this issue until/unless a new solution can be implemented to support owner-edit-only style roles.
Once you've been given the access code link to edit the TeamUp calendar, visit the calendar via that link and create your event.
Make sure when you create your event, that you put it on the correct calendar by choosing it from the dropdown list in the event details box, as show here. We want to make sure "Social" rides don't land on the "Race" calendar for example: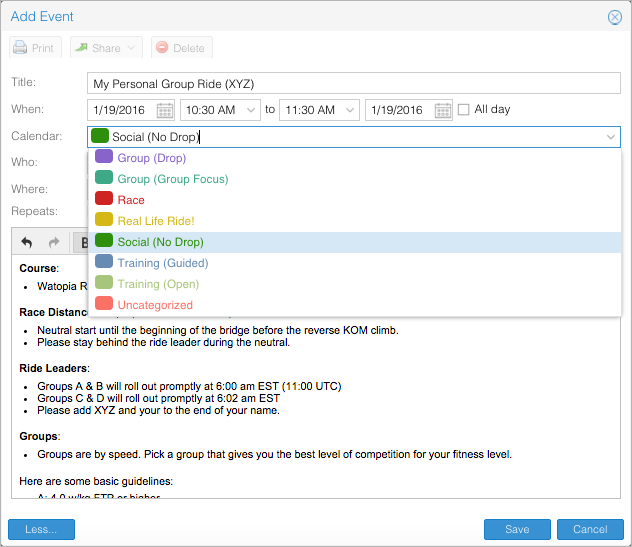 When you're done, click 'Save' to save your event to the TeamUp calendar specific for that ride type.
VERY IMPORTANT: If you change or reschedule the event or update the event details on Facebook, you must make sure that you replicate those changes over to the same event on TeamUp. Changes in Facebook don't change the TeamUp events and changes in TeamUp don't change the Facebook event. You have to keep them in sync yourself.
Starting your ride in 3... 2... 1...
---
Including the link to an accurate countdown timer in your Event ensures that all riders are aware of the precise need to start your ride. The Web Countdown Timer is a great site to set up your own timer.
Visit Web Countdown Timer and set your start date/time and click through the settings to customize your event start time.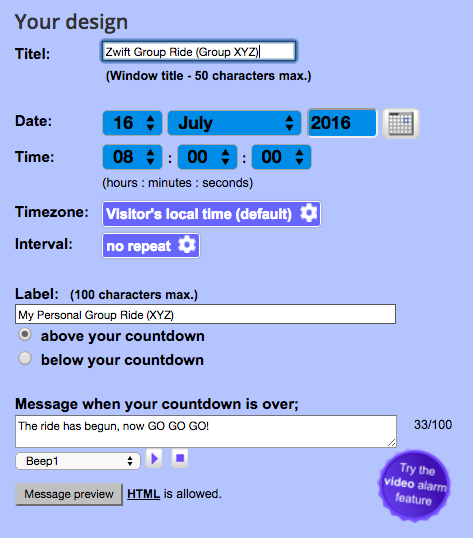 Once you save the timer, you'll get a custom link to the site + timer. You'll put this link into your event on Facebook:
http://www.webcountdown.net/?a=QW6P2zO
The final result should look like this
Live Zwift Group Ride Calendars
---
Log in to post comments
27270 views