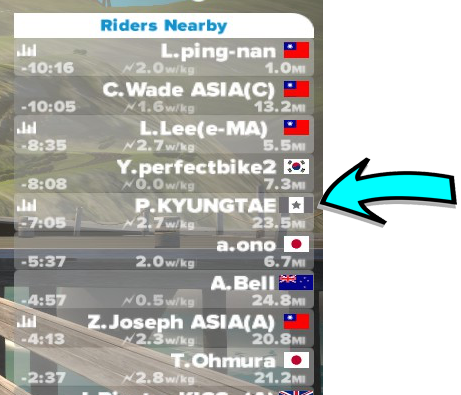 You've probably seen it in the Rider List before, and wondered: "What country is that? I don't recognize that flag..." 
Well, you're right. It's not a flag of any recognized country at all, at least not in our real world. This flag is shown when someone has set up their profile but has not selected any country, or has chosen a country for which Zwift has no custom, in-game flag to display for their name.
Think of it like the "Acme, Inc." representation of a country that Zwift hasn't seen yet. Or maybe it's just the secret flag of Watopia! You get to decide.
Zwift has done a great job covering almost all of the countries and flags of its represented membership, but there may be some countries that have riders, without a flag to fly for them. 
If you are from one of these countries, just send Zwift Support an email and ask them to create a flag for you, for your country. 
If you see another nearby rider flying the flag-of-no-country, send them a #RideOn anyway. That's the universal flag that all Zwift'ers fly that says you speak their language. 
Log in to post comments
38401 views