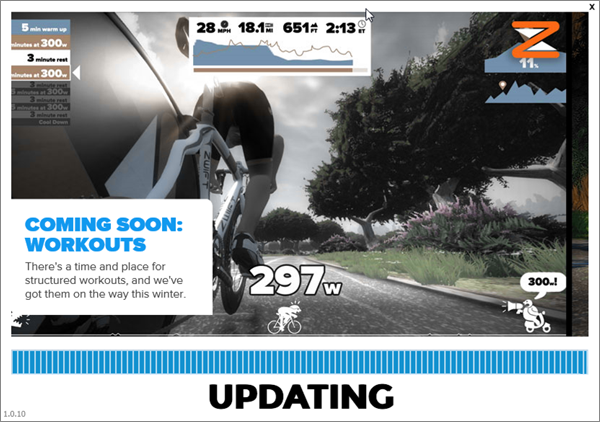 The last thing you want to see when you're about to ride is to launch the Zwift desktop application, see it find an update and start updating, and then it just... hang, or fail to complete the update process altogether.
Now you can't update and you can't ride on Zwift. NOooOOOOoooooo!!!
But there is a way to solve it: a complete clean removal and reinstall of Zwift. It's a quick, painless process and will fix the update issues you're seeing. 
Here's how: 
First, use your operating system's method of uninstalling an application.

In Windows: Go to Control Panel and choose "Add Remove Programs" option. Find Zwift in the list. Right-click it and choose "Uninstall" from the pop-up menu.
On Mac: Use Cmd+Shift+A to open the Applications folder. Look for Zwift in that folder (probably near the bottom). Select the Zwift icon and drag it straight on top of the Trash icon on your Dock, then empty the trash (Cmd+Shift+Delete) is enough to uninstall it.

After uninstalling the Zwift application, you will still have two (2) directories left behind that need to be moved out of the way or removed entirely. If you don't care to keep the data around, delete them. If you care about your data, just rename them. These are:

\Downloads\Zwift (this is a cache of the Zwift installer data)
\Documents\Zwift (this is where your actual ride data, workouts, previous history and logs are kept. You probably want to keep this.)
On Mac, there is a third folder you need to purge. To do this, follow these steps:

Open up Finder
Hold the "Option" key on your keyboard and click on Go → Library
Open the "Application Support" directory
Right click on the Zwift directory you see there and drag it to the Trash icon on your Dock
Re-run the Zwift installer again

Download a fresh, clean copy of the ZwiftSetup from the main Zwift website. Even if you have an installer already downloaded from a few days ago or even last week or older, don't use it; download a fresh copy of the installer and use it to install clean from that copy.
Now proceed to install Zwift as you would normally on your machine.
Launching Zwift after the installer has finshed its setup and update should give you the latest verison + auto-update enabled and you'll be riding in no time, without any hangs or other issues preventing you from riding on the course.
Log in to post comments
20400 views