Zwift ride/race categories and real-world Cat classifications don't directly map, but there is some aspects of similarity between them. 
Real world group rides typically break down into Group A, Group B, Group C and so on, depending on the level of fitness of the riders in those groups. If you're a fast rider, you float into Group A. If you're not so fast, you'll drift down into starting with one of the othe groups, based on the speed you can handle (or sometimes the mileage).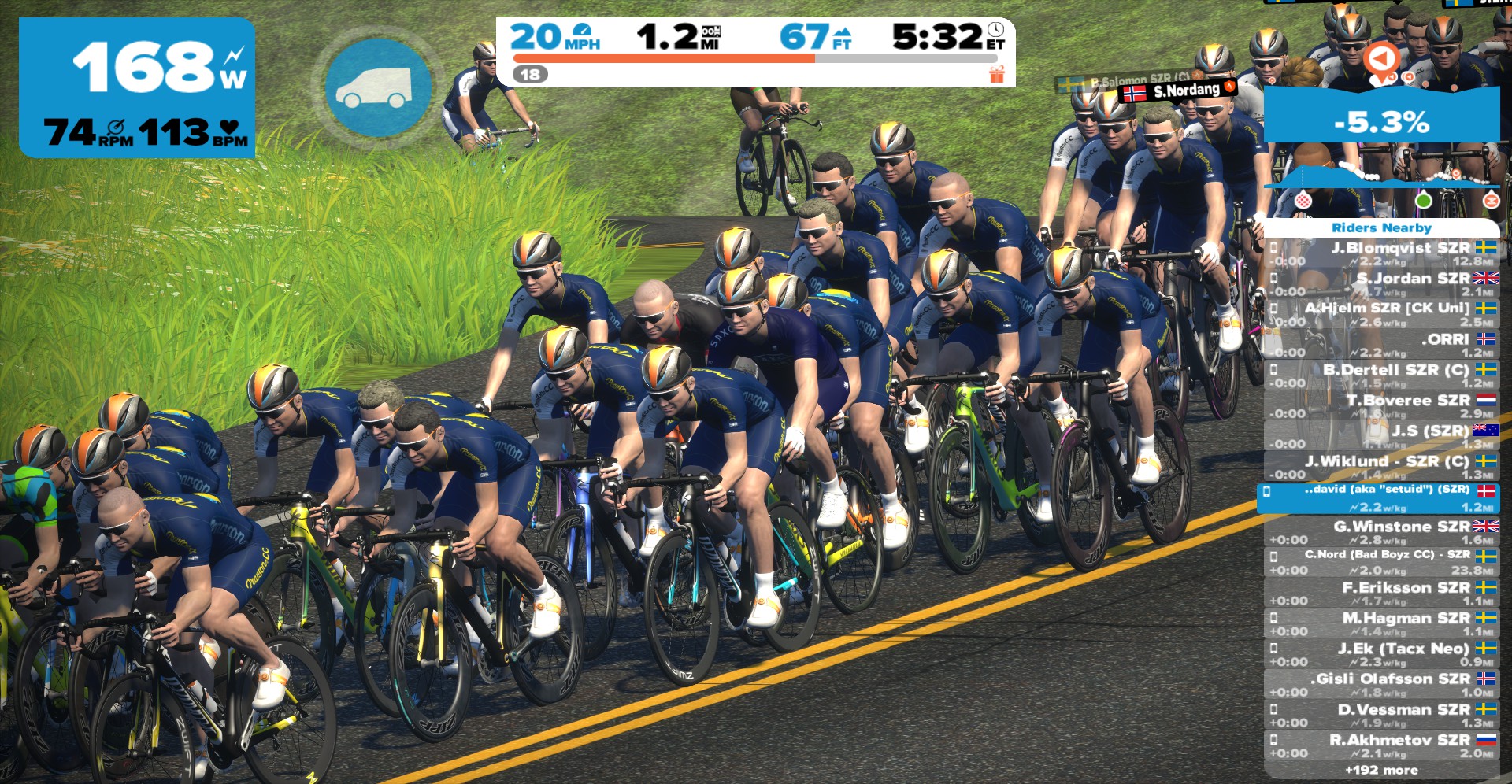 Real-world race classifications are very different, and require active placement in the race results standings, frequent races per-year to maintain that classification and moving up from Cat 5 through Cat 1 requires points to be accrued to move up the rankings. See "Real World Racing Classifications" for greater detail on this breakdown.
Zwift Ride and Race Categories
If you're an active rider in Zwift, you probably have a good idea what your top-end performance and fitness is. If you've done an FTP test, this becomes painfully clear (quite literally in some cases!). You should know what w/kg (watts-per-kilogram) you can sustain for an entire 1-hour ride. 
Some ride and race events openly advertise what those levels should be for each category. The Tuesday Night ZTR race is one such ride that has done a great job of clarifying this. 
Category/Group A: 4.0 w/kg FTP or higher
Category/Group B: 3.2 w/kg to 4.0 w/kg FTP
Category/Group C: 2.5 w/kg to 3.2 w/kg FTP
Category/Group D: Under 2.5 w/kg FTP
It's best to start at a level you know you're comfortable with and move your way up (as long as you're not sandbagging that ride), than to start with an aggressive decision and have to be pushed back down into the next category lower.
Real World Racing Classifications
In the US, all men start at Category 5 and all women start at Category 4. For the men to move up to Category 4, the quickest way is to complete 10 mass-start races permitted by USAC. The races must be at least 15 miles long if it's a road race and 10 miles long if it's a criterium ("crit").
Once a rider is classified as Category 4, the category upgrades start to reveal the underlying experience and performance, while the minimum length of the race. To move from Category 4 to Category 3, a potential racer can do either of the following:
Compete in 25 qualifying races with a minimum of ten (10) top-10 finishes with fields of 30 or more riders, or 20 pack finishes with fields of more than 50 riders.
Complete 20 upgrade points in a single 12-month period. Points are awarded based on a chart. Finishing 3rd place in a road race with 35 starters will give you 5 points. Finishing 2nd place in a criterium with 17 starters nets you 3 points. (Complete charts can be found in the USA Cycling Rule Book).
To move up from Category 3 to Category 2 requires 25 points in any 12-month period. Moving from Category 2 to Category 1 requires 30 points in a 12-month period. Once you're looking to upgrade to Category 2, sanctioned stage races can earn you points
Log in to post comments
689409 views