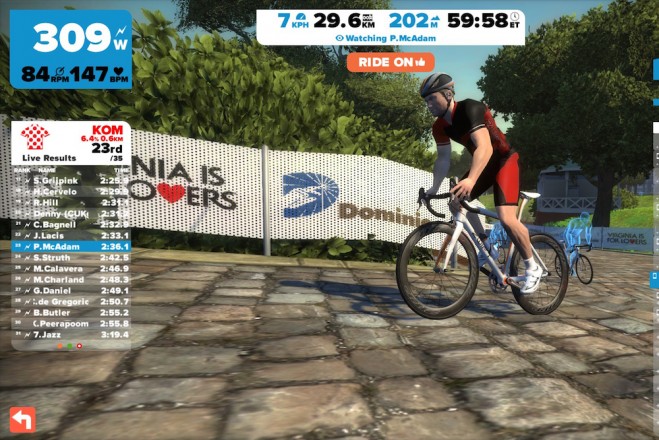 A few riders have reported that when they launch Zwift, they seem to be either alone on the course, or on the wrong course (Richmond on a Watopia day or vice versa) when they ride. 
There are a few things to check to make sure your Zwift settings and version are correct and current: 
Check your Zwift version: Make sure you're running the latest stable version of the Zwift desktop application. You can check this by visiting the Zwift support site and look at the recent release notes for the version of the latest release of Zwift. As I type this KB article, that is 1.0.9609. I can see that by going to the "What's New" section of the support site and then searching for the most-recent release article.

Then, on your desktop or laptop, right-click the ZwiftLauncher in the System Tray (on Windows) or go to "Get Info" on the .app (on Mac) to find the version. If your version is not the latest version, proceed to Step 2 below.

Clean Reinstall: To do a completely clean reinstall of Zwift, use these steps:

First, use your operating system's method of uninstalling an application. In Windows, that's under the "Add Remove Programs" option in the Control Panel. On Mac, simply dragging the Zwift application from the "Applications" folder to the Trash and then emptying the trash (Cmd+Shift+Delete) is enough to uninstall it.
Now you'll still have two directories left behind that need to be moved out of the way or removed entirely if you don't care to keep the data around. Move \Downloads\Zwift and \Documents\Zwift out of the way by renaming them to some other name.
Download a fresh, clean copy of the ZwiftSetup from the main Zwift website. For Windows, use this link. For Mac, use this link. Even if you have an installer already downloaded from a few days ago or even last week or older, don't use it; download a fresh copy of the installer and install clean from that version.
Now install Zwift as you would normally on your machine. Launching Zwift after the installer has finshed its setup and update should give you the latest verison + auto-update enabled and you'll be riding on the correct course at the correct time.

PC Clock Time: If your PC clock is off by hours or days, you could be riding on the wrong course because your PC thinks you're on Wednesday instead of Thursday for example. Check your clock for any clock skew. If you want to fix this permanently, see: HOWTO: Correct and avoid clock skew on Windows and OS X platforms (written by David A. Desrosiers)
 
Hopefully that solves your problem with showing up on the wrong course or riding solo when you intended to ride with others. 
However, if you did want to ride solo or alone, or choose a different course to ride, see the following KB articles: 
Log in to post comments
52018 views